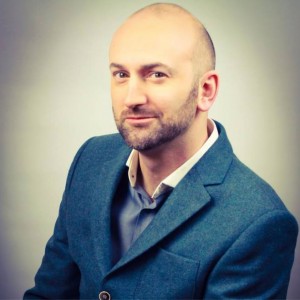 AERIAL VIDEO TV is the brain child of David Johnson. Northern Irish born David has been working in the media industry for the past 20 years and his CV boasts a wealth of experience. Not only is David educated to Degree level in Media Production, he also has the hands-on skills and expertise to understand and deliver your vision from concept through to fruition.
David's media expertise spans 20 years and his career started in N.Ireland with his passion and first love, radio. Over a period of 14 years he presented for some the biggest stations in the UK and his success took him to London and into the world of TV. David has clocked up over 4000+ hours on live tv and has presented on 4 satellite and 3 terrestrial channels (ITV N.Ireland ITV Scotland & TV3 in Ireland).  Currently you'll recognise him as the Irish voice between the programmes on ITV. TV is where David has gained all the necessary skills and experience which are most relevant to AERIAL VIDEO TV. Working with some of the most talented Producers, Directors, Cameramen & creative people in the country, David knows what makes a killer shot and will deliver the best possible product to you which he guarantees will knock your socks off!
So have a think about how AERIAL VIDEO TV could benefit you or your business. Take your time and have a look at the many videos and photographs on the site and if you have any queries or questions then please do get in touch. We work right across the UK with offices in London and Manchester. Right now we're in discussions about taking AERIAL VIDEO TV to other countries abroad. Seeing is believing and AERIAL VIDEO TV will give you a totally unique view of your world!